Happy Friday!  Today (as previously mentioned) I'm going to be writing a little bit about the best menswear patterns I have found amid the slim selection of current menswear sewing patterns.
I won't be discussing vintage patterns (there are many intriguing patterns available if you are willing to hunt for them) because Peter Lappin, an excellent sewer and blogger, has already covered this topic extensively.  You can see his vintage menswear collection and the great projects he has made up using these patterns by visiting his Pattern Photo Library.Here are just a few of his vintage patterns:
Peter's blog, 
Male Pattern Boldness
 is great reading and excellent sewing inspiration.  He calls his blog "The World's Most Popular Men's Sewing Blog" and judging by the amount of comments he receives and the excellent content, I think there is no argument that he's telling the truth! Moving back to the topic of current menswear sewing patterns, here is a small selection I have compiled:
This was my first real item of men's clothing and I have sewn this pattern many times since.  My husband and I made a trip to Fabricland in my early sewing days to find a button up shirt pattern and fabric so that we could sew him the perfectly fitted button up shirt he had always dreamed of.  We were way over our heads with the project as I had never altered a pattern for fit before and had no idea what fabric type to choose.  Plus, we were going to complicate matters by having him do the sewing!  We picked McCall's M6044 and some easy to sew but crinkly quilting cotton.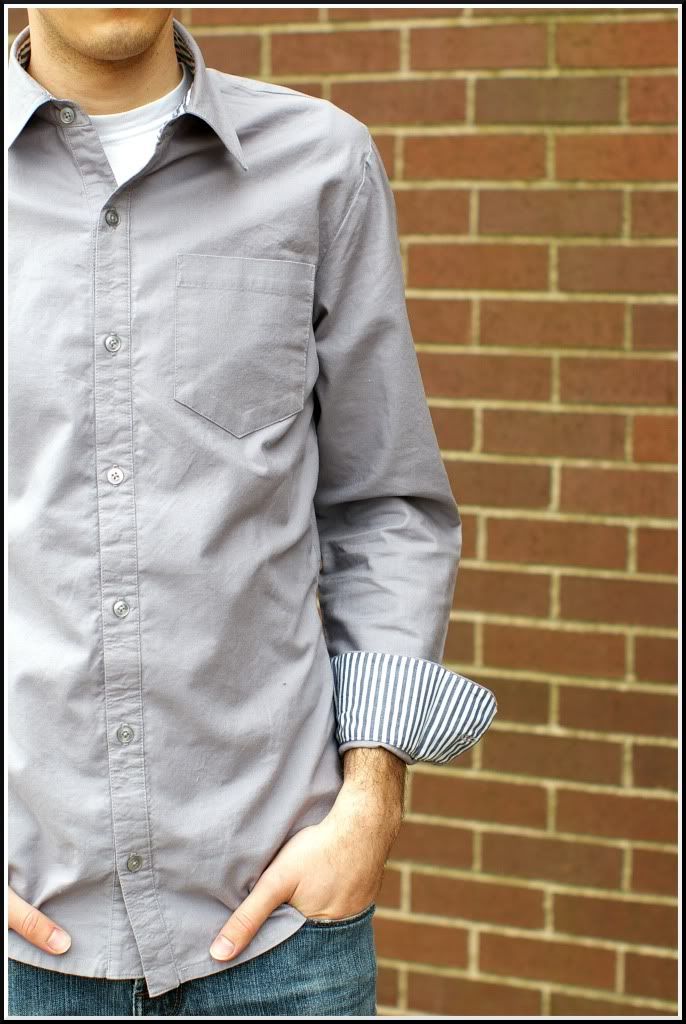 It is pretty much impossible to find Matt a RTW button up shirt – casual or formal – that is even remotely close to fitting him.  He has wide shoulders, a thin waist, a skinny neck and very long arms so most shirts, even if they are slim fit, are too baggy if they fit his shoulders and the neck is usually too loose for him to wear a tie.  The arms on RTW shirts are without fail about a third too short for him so he is forced to wear them rolled up to the elbows.  We initially cut out a size medium in a misguided attempt to account for the problem of short arms but we got halfway through cutting and became overwhelmed by the prospect of adjusting the rest of the shirt to fit.  The half cut out shirt sat in my UFO pile for almost two years until I brought it out in an attempt to empty my fabric bin.  I re-cut the pattern as a small and made up the shirt as is.  I decided that if the shirt turned out wearable, it would be a bonus, but the real point of sewing the cut out original fabric was to familiarize myself with the process of creating a button up shirt before adjusting it to fit Matt.  As expected, the arms are way too short for him, but we were very pleased with the fit across the shoulders and of the neck which needed no adjusting.  We brought in the side seams of the garment about 1.5cm on each side – much less than we thought would be necessary – and the shirt turned out very wearable considering all the odds it had stacked against it!  I added some scraps from a thrift-store shirt as contrast on the collar band and the cuffs which Matt really liked.
Another version I sewed up for him turned out like this:
2. Negroni Shirt from Colette Patterns
I haven't sewn this Colette pattern up myself as I had already made the alterations to the McCall's pattern to achieve a similar fit to the Negroni by the time I came across this indie shirt pattern.  I would like to try this pattern out though because the pattern description lists the most wonderful, thoughtful details - something that the McCall's pattern completely lacks! Colette Patterns description:
"For men that like a classic, slightly retro shirt with a more modern cut, this shirt pattern is just the thing. The instructions will guide you gently through every step of creating a well-crafted casual shirt: felled seams, a lined back yoke, and sleeve plackets on the long sleeve version. Subtle details include a convertible collar (also known as a "camp collar") and midcentury style collar loop detail.
This shirt can be made in a variety of fabrics, such as crisp shirting, warm flannel for winter, or cool rayon for summer."
The sleeve plackets are a big plus as the McCall's pattern provides an easy but cheap seeming alternative - simply finishing and folding over the seam allowances before top-stitching to create a rather flimsy but quick slit.  The Colette pattern would lead the sewer to produce a much sturdier and professional garment than the easy but very casual McCall's button-up.
3. Burda Style Pete T-shirt -FREE!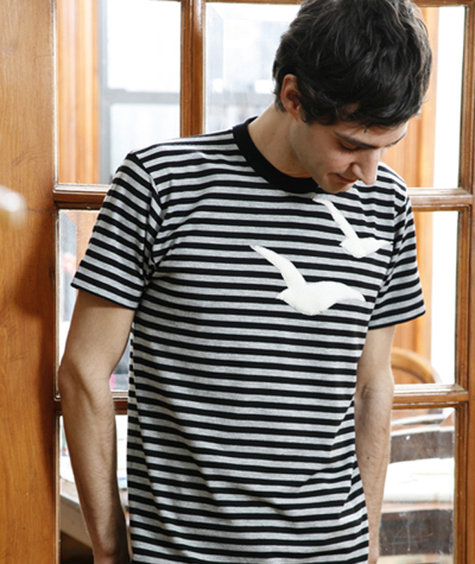 I have attempted this pattern several times now and have ended up converting all completed t-shirts into women's tank tops for myself due to poor fabric choice.  When Matt put on his new t-shirts they draped in a ridiculously feminine way because the knit I had picked was much too thin and silky.  Nevertheless, these failed projects were certainly not the fault of the pattern!  This free pattern is a good base for practicing sewing with knits and also to practice altering a menswear pattern to achieve a perfect fit.  I found that sewing the pattern up, as is, led to a very wide and short t-shirt (BurdaStyle users have made similar comments) and the minimal instructions were fairly complete but a little difficult to follow.  Despite my lack of success creating a t-shirt, there are many excellent versions on BurdaStyle that prove, with the right fabric and knowledge, the free Pete pattern can be used to create great designer t-shirts!
Topic for Future Post:
In the next few weeks I will be working on a tutorial using the Negroni Colette pattern.  I am hoping to provide photo instructions and inspiration on how customize a basic button up shirt to produce something expensive looking, customized to the wearer, and interesting.  Here are some tantalizingly inspirational images that hint at what the tutorial will include: